Falz The BAHD Guy Explains Why He Cannot Fall in Love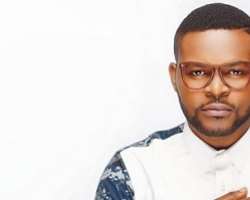 Singer and actor, Falz the BAHD guy, can be bold enough to say he has found his niche within a short time frame in the Nigerian entertainment industry as he recently won the Best Act in a comedy, movie or TV series for his role in Jenifa's Dairy at the just concluded Africa Magic Viewers Choice awards.
Still enjoying the glamour that comes with such an award, the singer has recently opened up that his heart is still open for the right woman to come in.
He stated that not being in a relationship does not mean that he has not seen ladies he could pick from but will not like his career to be distracted.
In his words, "In terms of relationship matter, I want to keep that one aside for now because relationship can be a source of distraction. When somebody loves a woman so much, he may abandon his work and I don't want that to be the story of my life. So when it comes to relationships, I am still single and I don't currently have anybody.
"That does not mean that I am not searching or I am not ready to mingle with single ladies. We can still mingle and have some fun together; who knows somebody may just capture my heart. So I may be over here saying I'm not searching, and somebody may be out there planning to win my heart and by the time they capture me, I will become love struck. What can I do when it happens?"