Dabota Lawson Rants 'I Was Not Born Poor'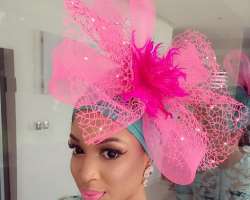 It has been a while we saw Dabota Lawson rant over some issues concerning her , the former Miss Nigeria UK and multi-millionaire wife is angry that people address her as a broke lady who ran after men for money. She has addressed this issue on her Instagram page where she insists that she was born into a rich family and cannot be a gold digger.
She wrote "…I'm beauty and brains and that's a fact !!! In a world where females think to get rich quick . I've paid my dues and still paying. I got my 1st job at the age 16 whilst in college in Leicester. @justice_2ndus @redlipsblackmascara remember how funny it was when we were registered to blue arrow agency in college and we were so proud to be working class girls .. Looool.
For those of you esp in the media that try to portray my 1st " taste of wealth" in your myopic mind to create hits for you by saying it was when I got married . You all didn't do any research , you are all lazy and are a disgrace and sorry excuse and demean the real job of journalism. As a child I had the best life and my parent provided everything , we were given the best education and two holidays each year abroad.
No poor family can train 4 children in the UK on international school fees . God bless my mum and dad for the opportunity. ( thank God almighty) That never made me have a big head and if anything my childhood inspired me to want to be great. When I met my husband I was still working . He had to beg and pay me to stop work and still I refused and found my calling in business which I started out of my pocket money N789,000. No one gave me millions to start a business. Anyway I'm tired…"