Hey Look So Cute…. Beverly Osu & Ik Ogbonna In La Mode Magazine's 'beach Serenity' Issue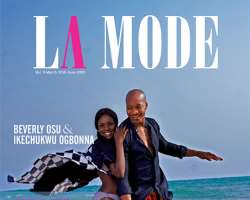 BEVERLY HILLS, March 11, (THEWILL) – The talented duo of Bevely Osu and Ik Ogbonna make a striking couple on the latest edition of La Mode Magazine.
With 'Beach Serenity' as the theme, the two stars rock fabulous beachwear made with African print while having fun on the beach.
See more photos from their shoot below!

Cover Credit:
Cover Celebs styled by: CuteSaint Styles (@iamcutesaint)
African Print Beach Shorts: Ralysruby
Monochrome Open Dress: Sassy Fashion House
African Print Earrings and bangles: African Things
MUA: La 'Riz Makeover (@larizmakeover)
Photography: Adebayo Adebusola Felix (@felixcrown)
Light Assistant: Orimolade E.Ayode (@Illuszionzofficial)
Graphics: Ndubisi Ike (@benzikmedia)
Cover Creative Director: Joseph Umoru (@jhosef_mo)
Editor in Chief/Publisher: Sandra Odige