Introducing Ceesky Formerly Known As Gen2 Squad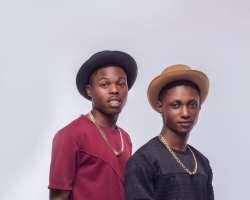 Gallant Imprint Music Presents Ajali Bartholomew chukwuemeka & Umar Mohammed Rabiu musically known as "CEESKY "formerly gen2squad, CEESKY" started their music career at the age of 5,singing in the children choir & started music professionally 2012,The 18 years old singers recently signed a mouth watery recording contract deal with ''GALLANT IMPRINT ENT LIMITED''.
Ceesky official debut single 'OWO ft REMINISCE ', is one song which has been catching the attention of many fans and receiving positive reviews for its unique style and lyrical artistry.the singers has been able to demonstrate strength in their music as evident in their vibes, lyrics and vocal energy.They are very versatile and talented in their style of music AFRO POP & R&B.
The duo have done a couple of tracks with some of Nigerian talented producers, Ceesky are set to feed their FANs with two hot new singles a song you all need to anticipate on, fans are to expect more materials from ceesky this Year including the visual of this coming jam which will be directed by one of the biggest Nigerian musical video directors...Song will be available in all store and musical blogs and sites around the world.below are fresh promo pictures from ceesky ....Don't forget to share your thoughts.