International Womens Day Emotional Ode to Seyi Shay: I Love Seyi Shay &  Can't Keep Calm About It!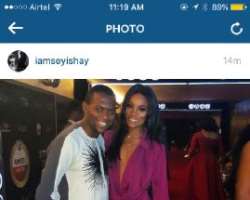 Chaste writes Emotional Ode to Award Winning Music Star in Celebration of International Women's Day
Miss the First Love Story Read Here http://www.bellanaija.com/2013/02/love-letters-are-pouring-in-read-chastes-loving-your-way-to-rising-music-star-seyi-shay/
Sheyi Shay,
The earth stands in awe of women, her strength, her love, her resilience and empathy.
Sheyi, you embody the definition of a woman, so what do I have to say on a day like this when I celebrate you?
I celebrate you today for your heart warming smiles
Watering the patched heart of lost humanity
Your voice, music breaking burden saddled with ties
Same voice that heralds the good news of times to come.
Days like this are not special because of the pomp and pageantry
days like this are special because you walked the earth
Let drums roll and music play
Let the young maiden's dance
as we celebrate
let the young boys sing your praise
And teenage girls your feats emulate.
On days where I need inspiration
Upon you I gaze
You eyes hold beauty carved by the master craft
You neck stands as young bamboo
Sprouting with energy
Your eyes sparkle with love
Changing the mood of the downtrodden
One wish however prongs in my heart
this thought that linger, a deep longing
a desire that echoes in all eternity
granting this wish birth women of your kind
children grown in love to change the world.
Will you give me the chance to love you forever?
Chaste.