My Husband Happens to be My 'Uncle'…Monalisa Chinda Reveals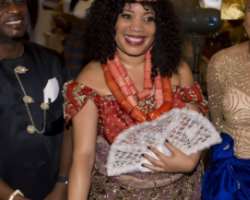 Nollywood actress, Monalisa Chinda, got many surprised when she had her traditional marriage to her husband, Victor, in February 20, 2016, at a grand ceremony in Port Harcourt.
The actress recently explaining how she met her man disclosed that she has knew him since when she was 14 years of age and that was in the 80s.
She stated that she has always seen him as an uncle as he does come around the family house and they were familiar with his own family too.
According to her, "I met my husband a long time ago though then he was like an uncle, that was in the 80's when I was 14-years-old. He was a family friend who used to visit us a lot and I also used to go to his house to see his dad and his kid sister who was my best friend then. I used to say to him, "Hello uncle, what did you buy for me today" and all that. I grew up and also kept in contact with the family until after a while naturally we all lost contact."