SENATE MOVES TO REPEAL PRISONS ACT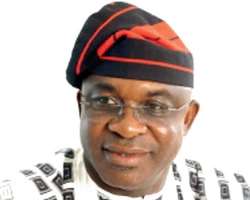 The bill, 'A bill for an Act to repeal the Prisons Act,' which has been before the Senate since January, 2008, passed Second reading on Thursday and was committed to the Committee for further legislative action.
Chief sponsor of the Bill, Senator Victor Ndoma-Egba, while leading the debate on the general principles of the bill, said it was aimed at addressing fundamental lapses inherent in the Prisons Act.
He said a review of the Act was necessary in order to put in place the needed framework for the rehabilitation and transformation of inmates and address the issue of inadequate funding of prisons.
Ndoma-Egba said prisons were meant to serve as correctional facilities to prepare inmates to make meaningful contributions to society at the end of their jail terms.
According to him, 'The existing Act makes no provisions for reformation and rehabilitation of prisoners during incarceration.
'Basically, the major aims of imprisonment as part of a criminal justice system are the execution of court judgments, protection of society from criminals, reform and rehabilitation of prisoners with the aim of re-integrating them into the society.
'However, the Nigerian Prisons Act as it is today only emphasises the penal and punitive role of imprisonment and makes no provision for reformation and rehabilitation of prisoners during incarceration.'
In order to achieve these objectives, the Bill is proposing the establishment of a Prisons Service Board to be charged with the responsibilities of 'among others things, identifying the causes of anti-social behaviours of convicted prisoners, providing medical, psychological and counselling services for prisoners as well as generating revenues for prisons.'
In his contribution to the debate, Senator Dahiru Kuta (PDP, Niger State) recalled his experience during his incarceration by the General Ibrahim Babangida dictatorship.
According to him, 'I was put in a small prison with five armed robbers and right there in the prison, they were sharing experiences on how they robbed people and even learning from each other on how they were going to be more daring when they come out of the prison.'
He advised government to put machinery in place to encourage prisoners to think of a better life outside crime.
Senator Wilson Ake said, 'What it seeks to address are very fundamental. In most cases when our prisoners come out instead of being reformed they become more hardened criminals.'
However, Senator Jibril Aminu thought differently. He said 'I don't think we can reform the prisons through a private member bill.
'We should have another presidential reform commission for prisons. We should not be carried away by sentiments; the citizens (outside) deserve protection than criminals.'
The Deputy President of the Senate, Mr. Ike Ekweremadu, who presided over the day's session suggested a return to the old days.
He said 'We need to return to the old days where the local governments where in charge of the prisons. It should not be on the exclusive list.'