Hit Banger Alert: Stylezz X Da Emperor X Shyboss On Shake It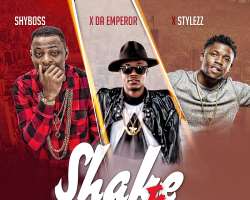 STYLEZZ (USA based, Nigerian born) singer , DA EMPEROR and SHYBOSS all teamed up on this feel good uptempo joint which will definitely sync into your soul and get you moving your feet and shaking what your mama gave you.
Shake it is for the ladies and for the men i.e for the whole world.
Stylezz recently released his "Leave story" video shot in the U.s, Shyboss also recently released his "Kilode" video and so did Da Emperor recently dropped his "I Am Sinner" video which is still currently getting massive love from the media.
This year has started out all good for the trio as they follow up with this new masterpiece for the dance floor titled "Shake it"
The trio murdered this song.
Follow on social media:
@Iamstylezz
@Daemperor01
@Officialshyboss
Below are download links , also attached are mp3 file and artwork
Download link 1 >>
http://www.datafilehost.com/d/593db05d
Download link 2 >>
https://www.hulkshare.com/l3uk9kc00sg0