I Never Fed Vulcanizers for Publicity Stunt… Munachi Abii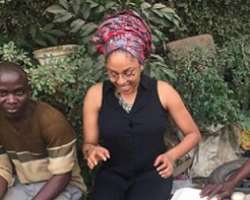 Former Nigerian Beauty queen-turned-rap artiste, Munachi Abii, has not escaped the axe of her fans after she recently fed two vulcanizers in her area with nicely prepared delicacy.
According to the singer, she has been planning for a long time on how to show some love to people in her area but she has not been able to find the rhythm of how to do that until recently when she got the zeal to execute the project.
The singer was being attacked by fans as they described her actions as publicity stunt. But she has explained that there is nothing she is promoting as she only did that as a gesture which is from her heart.
She explained that she could have done it without people knowing but she shared the picture so that other people can learn to appreciate people in their environment.
"I don't care what people think of my gesture; neither do I care about their comments. I have been in this industry for too long to know that comments do not matter. What matters to me is that I am doing the right thing. It had been in my mind and I am glad I did it. I don't know if I would sustain this gesture but only time would tell. I am not feeding the needy; I am just doing my own quota for my community. I believe that anybody that wants to do something for the society can just go out there and make a difference. I am just doing what I can do. I am not doing it for publicity and the reason why I posted the picture is because I want to encourage people to go out and make a difference," she said.