Rapper Looking Super Sexy Elle Canada, Check Out The Pictures!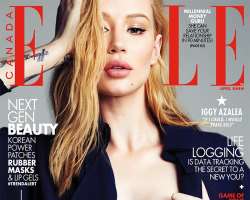 BEVERLY HILLS, March 03, (THEWILL) – 25-year-old Australian rapper, Iggy Azalea is the cover star for ELLE Canada's April Issue.
After a not so cool 2015, Iggy in a chat with Elle talks her conflicted relationship with social media, love for rap, her feud with Azalia Banks, her nose job, her upcoming wedding with LA Lakers player, Nick Young and more.
Read excerpts from the interview below…
You must be deep into wedding planning. There are so many rumours circulating about what could possibly happen on the big day….
"I know! My mom even asked me if I was having two weddings and lots of horses—I don't know who wrote that. And to be honest, that sounds like a really trashy wedding that belongs on a reality show. I can tell you right now that my wedding is going to be pretty boring compared to what everyone has been writing about it."
It's not the first time online accounts of your life have been more fiction than fact. Back in February 2015, you said you were stepping away from social media and that your management was taking over your accounts. Are you back now?
"I'm back. But this time I've given myself some rules so I don't get too sucked in again. For me, what happened, not just on social media but with everything in my career, was like a whirlwind. I started to feel like I was losing control over my own life. And it wasn't just how people began perceiving me or the stories that were written about me—it was everything. I just felt like I had lost control of the whole thing to the point where it was like being on this rocket and then suddenly realizing you aren't even driving it anymore. It was really scary. I even think back to the Papa John's incident and ask myself 'Why did that piss you off so much?' I see now that it spiralled into something so quickly because I felt like I didn't have any power over my own life. At that point, I needed to take some time, step away and just get that control back."
If you could redo anything from 2015, would you?
"Umm, yeah…of course. If I could, I would Men in Black memory-erase 2015, I totally would—that would be amazing! Oh, God, there are so many things. I think the Azealia Banks thing is what really started it all. We don't like each other on a personal level, and that has gone on for many years—before the Black Lives Matter incident happened. So when I dismissed her, people started to think that I dismissed the whole movement, but I wasn't trying to dismiss Black Lives Matter—I was trying to dismiss her because it's our personal shit. I don't think the subject matter of her tweet was invalid; I just think it was emotionally charged and driven by something else, and the whole thing got so misconstrued. I just wish I had acknowledged the issue head-on because it made people think I don't care about what's going on socially and what's happening in America, and I do care. Even though I still hate Azealia Banks, I wish I had said it in a way that didn't make people think I was oblivious to the movement. And I wish I hadn't gotten into a fight with Papa John's!"
On getting plastic surgery…
"I think, in 2016, people should be more accepting of the fact that both famous and non-famous women are having cosmetic procedures. That's just the reality. And I think more people need to admit that shit so it doesn't have to be so taboo—because we're all doing it anyway."
"I wanted to change my nose because I didn't grow up with a bump on it—that happened when I got smashed in the face with a soccer ball when I was 16. Now I feel like my nose looks the way it's supposed to look. But for how long do we have to acknowledge that I got a nose job? For the rest of my life? Am I going to be 45 and people are still saying 'Nice nose job'?"
"Everyone tells you that you should love your body the way it is, but then it is bad to say that you want to change something about yourself not because you want to look like someone else, just because you want to? What's wrong with that?"
Check out more photos from her shoot below!