Marriage Is Not In My Diary–Esse Agesse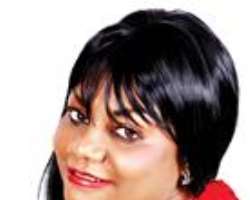 When Esse Agesse returned to the United States of America (U.S.A.) after the messy divorce with her ex-husband, Kingsley Ogoro, little did many know it was to get over her once nasty marriage life.
Klieglights wanted to know what has been happening to her since her exit from the country 10 years ago, and the beautiful woman, who hit the Nigeria music scene in the early 90s like a thunderbolt, with an album entitled Back to the Basics, followed by Celebrate, simply said: "God has been faithful to me. I have been actively involved with music in the United States of America. I have fully concentrated on singing to the glory of God and this has seen me singing in churches.
"Aside that, I have been able to minister and elevate people's souls in the churches and after I've successfully staged a music come back, I decided to extend my music ministry to Nigeria once again."
On her resolve to take to churches and maintain her presence as a gospel music act, Esse explained that her involvement in the church has only been strengthened with her stay in Ireland as she is known to have been a gospel act even before she left the shores of Nigeria.
"Like you know, I have been doing gospel music even before I left the shores of Nigeria and I can tell you that my longer stay in America – a place I have come to love – further strengthened my desire to praise God more and this further moved me to intensify my Gospel music to be appealing to every class of humanity," she said.
Like everyone, who witnessed her widely reported and messy divorce with top movie producer, Ogoro, Klieglights inquired how Esse, who immediately after her divorce went back to her maiden name, Agesse, has moved on with life.
And in a soft but decisive laden voice, Esse said: "I would like to state here that I have left every obstacle behind me and every challenge has been a thing of the past. I'm a more refined Esse Agesse!"
For the good looking mother of three – two girls and a boy – marriage is not in her future, as she has better plans to serve God more with her voice.
"Marriage is not in my diary for now. I don't have it in plans now. But who knows, maybe tomorrow, I could think of it but for now, what is paramount to me is singing and praising the good Lord, who has been so faithful and good with me all this while. He alone had been there for me, He stood by me and made me the happy person I have always desired to be," said the singer, whose last album before leaving the shores of the country was Simply Essse.
Esse Agesse, the first daughter in a family of seven children, strongly believes that her marital experience has not only made her a better person but has also made her a better lover and God's friend.
"My experiences over the years have no doubt made me a better person. I can confidently say that it has further made me a better mother and a better friend to whoever loves God and God himself," she said.
Currently ready to break loose with her outfit, Free Play Entertainment, the queen of Gospel Pop, has just completed two singles entitled 'This Kind Love' and 'Rock Solid'.
According to the economics graduate of the University of Lagos (UNILAG), "I'm set to make a difference in the gospel music industry in Nigeria now. Nigerian music generally has stepped up but it will still need a little bit of flavour to be added. Our gospel music needs more flavour for us to have the same or more recognition like the contemporary music. With my entertainment outfit, FreePlay, am set to make a difference."
Speaking further, Esse said, "the 'This Kind Love' video, the song that is dedicated to almighty God, had been shot in various locations both home and abroad to inject classic into it, while 'Rock Solid', a song with an R'n'B infusion, has been a toast of lovers of good music all around."