DORA AKUNYILI'S SECOND COMING AND NOLLYWOOD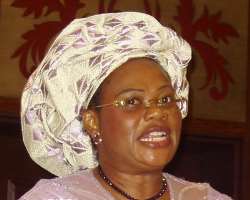 When the Acting President, Mr. Goodluck Jonathan dissolved the Federal Executive Council constituted by Mr. Umaru Musa Yar'adua on March 17, comprising of characters who almost made crass opportunism look like the new cool, many people expected the erstwhile swashbuckling Minister of Information and Communications, Mrs. Dora Akunyili, would have an easy ride back into the new cabinet.
But that was not to be. Senator Kanti Bello in the fullness of his senatorial wisdom descended upon Akinyili like a ton of bricks. Tempers frayed and Mr. David Mark had to get on his feet to rein in the combatants. The furrows on his face suggested he might have preferred there was a senate order that approved the use of horsewhip. In the end, Minister Akunyili took a bow and got back her Ministry.
And there is the ever present danger that Madam Minister's victory can morph into a pyrrhic one unless she kept her feet on the ground. Barely twenty-four hours after the dissolution of the FEC, an Abuja Federal High Court voided Akunyili's cancellation of the licensing process of national frequencies in the 2.3GHz band. Several media policy reforms initiated by the government are begging for attention.
They include the report of the Presidential Advisory Committee on the Transition from Analogue to Digital Broadcasting in Nigeria. Reform documents still waiting for government endorsement for implementation to commence including national community radio policy, national mass communication policy, broadcasting in vision 20-20-20 and the national broadcasting policy.
One wonders how she found the time to berate Nollywood in her first time out when her "To-Do list" looks this formidable. She held Nollywood responsible Nigeria's image problems when right under her nose politicians were looting the nation silly and the Yar'adua debacle was turning the serious business of governance into a cocktail of buffoonery.
This second time around, Madam Minister, it seemed has her work well cut out—only she does not have the luxury of time. The issues alone that need to be addressed in the broadcasting industry are sufficiently foreboding not to mention the fact that Nollywood, lies prostrate.
She can borrow a leaf from Mr. John Tia Akologu, Ghana's Minister of Information. In a meeting with the executives of the Film Producers Association of Ghana (FIPAG) last Tuesday, they discussed issues in the passage of the National Film Bill to regulate their industry, how to stymie Nollywood's threat to their growth, and the need for financial support for the growth of their industry. Nollywood needs both institutional framework and adequate financial support to restore her glory.
Definitely, play dates and publicity stunts are out, Madam Minister must roll up her sleeves and get to business.
nollywoodgists.com / Isaac Anyaogu