I'm Blessed to Have 2Baba's Son…2Baba Babymama Brags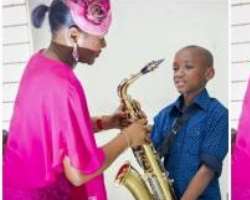 Singer, 2Baba, will sure be a proud father to see his children turn stars in their various endeavours and an example to one of such success is his first blood, Nino, whom he had with Adesunmbo.
The fast growing chap is said to perform as an opening act at this year's Inspiring Change Convention, on March 5, 2016 in Lagos.
Nino has been seriously practicing how to handle the Saxophone for a while now and he has been doing well with the keys. It will not be bad calling him Nino the Saxophonist.
According to his mum, she wrote, "And the opening acts for this year's INSPIRING CHANGE CONFERENCE 2016 is the world famous Super duper performer, kid Saxophonist with a unique Grace, Nino Fabulous Proudly Nigerian. Door opens at 2pm. ADMISSION IS FREE. I'm super grateful to be blessed with Nino."