AMAA Addresses Ghanaian Controversies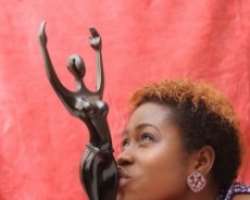 Judith Oluwole Kuwornu, the Ghana rep of the African Movie Academy Awards, has released a statement clearing errors in some Ghanaian publications concerning the list of winners and alleged unfair treatments to the Ghanaian contingent to the just ended awards ceremony held in Bayelsa State, Nigeria.
According to her, out of the 19 nominations for Ghana, there were 6 wins as follows:
AMAA achievement in sound- I sing of a well
AMAA achievement in costume- I sing of a well (Mabel Germain)
Best original soundtrack –Perfect Picture (Elorm Adablah)
Best performance by an actor in a supporting role- Adjetey Annang
Best performance by an actress in a leading role – Naa Ashorkor Mensah Doku, Lydia Forson and Jackie Appiah
Best director- Shirley Frimpong Manso
Ghana also got the most coveted awards of the jury award for Best Movie by 'I sing of a Well' and a lifetime achievement award to King Ampaw.
She added that, it was important to stress that the organizers of the awards had everything worked out in terms of planning and logistics to ensure the event is very successful without any hiccups but like any in establishment however, the organizers had some funding challenges occasioned by the global economic meltdown with the attendant paucity of fund which has affected every sector of the global economy.
AMAA organizers could not get the expected funding from sponsors and this created some level of uncertainties but as the saying goes in showbiz the show must go on as the of postponement was not an option to be considered. The inconvenience postponement could cause invited guests and nominees who had planned well in advance for a trip to Nigeria for the show would have been much.
Determined to surmount the challenges, the event organizers were resolute to go ahead with the show, with the intention of reducing cost where necessary. Fortunately and unfortunately, it was almost difficult to reduce the regular thirty places for Ghana since as you may be aware, Ghana this year had 26 nominations leaving only four slots for other persons such as AMAA reps, media, reps of various umbrella bodies etc.
Not minding the challenges earlier mentioned AMAA still bent backwards to accommodate 35 delegates from Ghana, including Ben Brako and other five members of his band for which AMAA paid all their expenses.
"I have to state here categorically, in the six years of the AMAA awards, it has been an all expenses paid trip including airfare, hotel, food and drinks. Those who are here and have been on previous trips can testify that. It is however unfortunate the kind of news making rounds that, for instance that the Ghanaian contingent was stranded. It still remains a mystery where those media houses got that information. I have to also state that at no point did any media house call me for clarification on the situation in Bayelsa, knowing very well that I led the Ghanaian contingent to Nigeria," comments Judith.
She explains: "To us it is unfair for anyone to think or say that stars like Akofa Asiedu Edjeani, Jackie Appiah, John Dumelo, Lydia forson, Oscar Provical and Kalsoume Sinare,Yaw Boakye and Ekow Freeman were abandoned in Nigeria . As a matter of fact at no point was any Ghanaian left unattended. Yes of course due to the travel and delays in flight arrangements, we sometimes missed on breakfast. And when we did we were provided with some refreshment."
"Unfortunately, one reporter said she only ate once a day in fact I am challenging her to come and tell us on which day she was provided one meal a day. Once again those who were on the trip with us and are here can testify."
"We were expected in Ghana on Sunday, 11th of April, but again delayed flight arrangements caused us to leave Bayelsa late only to arrive in Lagos on the night of Monday, by which time no flight leaves for Accra. The whole contingent with exception of those who chose to stay behind on their own left Nigeria on the morning of Tuesday and arrived at the Kotaka international airport at 8:30am."