Munachi Abii Feeds Vulcanizer, Others with Afang Soup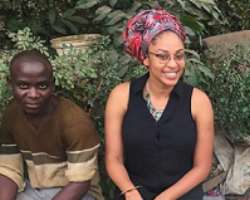 Ex-Nigerian beauty Queen and singer, Munachi Abii, has finally pleased herself by doing what she had always wanted to do for a long time but was not avail with the right avenue or resources.
The singer recently cooked some delicious meal to take to the streets to feed people who work so hard to earn a living but do not have time to do that.
Munachi explained that feeding people and bringing laughter to their faces will be a once in a month routine she will always love to carry out.
She stated that it took her so long to achieve this because she kept planning but was not able to actualize it until recently.
In her words, "There is something that has been in my heart for such a long time. In my mind I had planned an elaborate day filled with lots of delicious meals for the people, my people, who hardly find time to eat good with joy and laughter because they work so hard & hardly earn enough. & so I planned to take one day in a month to celebrate the people by celebrating them with a befitting meal.
"I had planned, re planned and planned again for my project, fortunately ?? humans always fail but God never fails. I was done whining, complaining and making excuses as to why I hadn't kept my promise. I decided to do it anyway, even if it meant feeding one person at a time. This time, I will not give up! & so I cooked!!! Delicious seafood Okra & my sister cooked afang soup & we set out the feed anyone we could find. It was such a beautiful day. Oga vulcanizer and his boy never expected it & I am happy for the joy it put on their faces."