Dayo Amusa Nose Shrinks After She Remove Her Nose Ring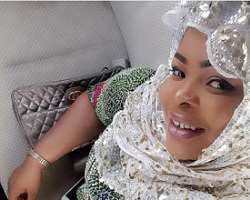 Popular Yoruba actress, Dayo Amusa, has grown to become a household name on the lips of her teaming fans who tends to appreciate every little efforts she makes at entertaining them either through movies or her music.
The actress recently got many wondering after she stepped out well dressed in her Alhaja outfit but without her nose ring.
While many kept asking what would have happened that she had to remove it, a close look at her nose shows that the spot where the ring fits is a bit shrink.
Probably she is taking it off finally or she just wanted to have a feel of how she will look without having it on.