THE PRESSURE AND DILEMMA OF THE PRINCE WHO WANTS POLITICAL POWER – THE CASE STUDY OF PRINCE TONYE PRINCEWILL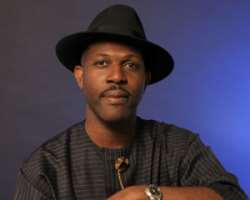 Born a prince of the renowned Amachree dynasty in the Kalabari kingdom with its century-long history of bravery in war and gift of oral narration, trained as an aristocrat par excellence and bestowed with an uncommon wisdom from God, this Prince hardly needs an introduction in any political gathering in Nigeria. Though it was beyond him to be born a prince, it is however in line with his character, remaining atop his life's endeavour, through sheer hard work. The prince is calm, focused, intelligent, insightful and of humble personality.
Many have argued that his sudden rise in political status in Nigeria is the product of boardroom skills. Those who have found nothing extra-ordinary in Tonye's brand of politics and its potency to disarm even the most vocal critical sector attribute it to the father. The age-long wise saying that if a child washes well his hands, he dines with kings and queens has no true-life application as far as this group is concerned.
An accomplished academic, an orator and a patriot, a charismatic politician, an outstanding philanthropist, a voice for the voiceless, a study in humility, a great manager of human resources, a fearless warrior and unassuming humanist, foresighted and a believer in a united, stronger and viable Rivers state. To me, that is even a punishable attempt to describe Tonye. But what would I have done if not test myself on how much or little I may have attained in the Herculean task of seeing the wholeness of the Prince. Though these few years have given me a closer study of this new breed, yet I am still far away from beating the chest that I have been successful. In all modesty, I have never been a dull student but since an enigma evolves outside any scientific index, it would end in an ant's hole to nurse an attempt to beat time and hoist an "hurray"!
Confounding people with his brand of politics mixed with activism, he treads the political landscape of the state like a colossus. Given to the mastery and apt use of choice words to create relief against social pains, Princewill succeeds at first attempts to persuade others to believe his views. His speech competence and depth march that of great orators found anywhere man exists. Great speakers like that have often, in History, found their way to the pinnacle of political empires.
Tonye carries himself not like an aristocrat which undoubtedly nature thrust on him. He goes with the humility of the servant to the people which he prefers to sitting in an exquisitely furnished palace, robed in the costliest princely apparel. That nonetheless shows him in disdain to neither the Crown nor a prodigal to the ancient stool on which only warriors, descendants of the great Amachree, would sit on. This humility, a gift incontrovertible, forms his answers any time any praise falls at his feet.
In the last three years, this blue-blood of Kalabari descent has gradually muzzled his way into prominence in the highly volatile political terrain of Rivers state. Always business-like, every time was productive to be wasted. That was not lost on the Rivers state government as appointments followed one after another. Today as the youngest member of the Rivers State Economic Advisory Committee, he is part of the team that counsels the state on priority and fiscal prudence. He was appointed Investment Consultant to the Rivers State Government in December 2007 and has so far been able to attract over Fifty Billion Naira (N50bn) worth of investments to the state through the Public Private Partnership Initiative of the state government.

Today, he is the foster father of organised political opposition in Rivers state with 43 political parties as consensus leader of its coalition. It is worthy to note that two separate but defining moments heralded his adoption as the consensus leader and It is to Prince Tonye Princewill's credit as leader, that the AC had two slots on the immediate past State Executive Council with Bar. Osimah Ginah, Commissioner for Ministry of Urban Development and Chief Davies Ibiamu Ikanya, Commissioner for Special Duties getting the nominations to fill them. Barr Ginah has since been reappointed into the newly reconstituted cabinet.
This believer in an immediate paradigm shift, where good men who had hitherto shunned politics because of the general belief of its being a "dirty game" would now begin to embrace politics to gradually become the majority that would put into effect the sought after change who through his antecedents, has become a brand name in the emancipation and struggle of the people of Niger Delta and a voice for his people that his opinion and views on any national discourse and issue is always highly sought and respected.
The Prince did the impossible in the Nigerian politics when against all odds he resigned a Federal Government appointment that would have catapulted him into both NDDC MD and other lucrative offices when he resigned his Chairmanship of Vision 2020 Sub Committee on Niger Delta. According to him, "It wasn't courage but was something of eh; I was angry by government reaction and pulling of the Niger Delta Technical Committee – Vision 2020 committee as a chairman. It was a first step; it was the least I could do. I am not going to be sitting down and formulating policies on Niger Delta, and proffering solutions to the same people who are causing the problem. It does seemed to be ridiculous, if someone call you into his house and said, please I want you to advise me on sanitation and you go and spend time and energy and do a,b,c,d,e and start to proffer the way forward, and meanwhile, you are watching this person that you are going to propose to, as you are talking they are dumping things. It is clear they are not there to come and listen. To me it is even nothing, to even wonder about. It is obvious moves that you don't order or go on with that person. Unfortunately, some persons, because the client is the federal government believe that they should not tell them truth or should not confront them with the reality. I of course on the other hand, by my antecedence, my happiness is to be opposing what is not working and my willingness to put everything on the line as at when necessary, will tell you that you should not be surprise that by my very self will not allow silence in the midst of that kind of thing. I am glad that we did it as a very first step. We also said that apart from it been a first step, if they did not stop, we will take it further and I am glad that less than ten days after that, we went from bombing Gbaramatu to amnesty which was almost systematic in its nature. Why do you offer amnesty and then bomb? Sorry just after bombing, you have already offer amnesty. Is there any remote sense in it? But amnesty was the right way to go, bombing was eh wrong way to go. I am glad that they turned at the corner and pulled back from the creeks".
It becomes obvious that Franklin .D. Roosevelt, a former president of the United States of America, an orator and philosopher of great acclaim, had the likes of Tonye Princewill in mind when he wrote: "The test of our progress is not whether we add more to the abundance of those who have much; it is whether we provide enough for those who have little." Holding tenaciously to this eternal verity, TP as he is called by admirers, believes that a leader should be a public servant, who strives relentlessly to put smiles on the faces of his followers without placing undue emphasis on their social status or dashing the hopes of the poor masses. As one with leadership acumen, Princewill never subscribes to leadership stratum as an end. Rather, he views it to be a means to an end, the end being the socio-economic and political emancipation of the people. According to Einstein the great Philosopher may have the Prince in mind when he stated, "Only a life lived for others is a life worthwhile"
All the above qualities and revolutionary steps the Prince of Niger Delta has taken is not the main discourse of this treatise but the pressure his type of politics have brought on him lately that may improve or mar his political future. Today, his associates are divided on whether he should abandon the AC that brought him fame and national recognition or follow his political mentor, Atiku Abubakar who stood by him when all the odds was against him when he decided to drop his gubernatorial Tribunal case against Rt. Hon. Chibuike Amaechi the Governor of Rivers State when on 26th of October, 2007 the Supreme Court confirmed Amaechi as the Governor of Rivers State back to PDP. The facts remains that in 2006, out of the blues TP came and wrestled the leadership of the party in Rivers State from seasoned and feared politicians that set up the party in the State particularly Sgt Awuse whose name alone can send you to political oblivion if you are not a lion-hearted fellow like the Prince and whose structure Prince Tonye Princewill used to defeat him in AC Primaries to determine who flies the flag of the party in the 2007 gubernatorial election. He contested the 2007 gubernatorial election under the platform of AC and actually won the election against the awesome PDP if the votes of the people were to be counted. A party through which this enigma of a politician used to sponsor and fund the Rivers state Chapter from 2006 till date and assisted other Chapters of the party that were in deep-neck in crises. On 4th May, 2008 Rivers state AC was at Bayelsa, sponsored by this new block in Nigeria politics, to offer assistance for the rerun governorship election. He was at Adamawa, Edo, Ekiti and Anamabra States to assist AC Chapters in those States to prosecute its elections programs. Chief Dr Bisi Akande the National Chairman of AC during the last NEC meeting of the party held at Benin singled out Rivers State Chapter of AC led by Prince Tonye Princewill as the only Chapter in the Federation up to date in its financial obligation to the party and the only Chapter that offer helps to other Chapter of the party.
But all these romances and feats of the Prince with this great party (AC) may be a history if the unfolding events in the political evolution of the country are anything to go by. This started when the Prince was appointed as one of the three members on the Steering committee of NDM from the South-south a platform he used in the mobilization of diverse demographic groups and stakeholders for the purpose of sensitizing, recruiting, regrouping and organizing them in line with the National Democratic Movement's vision of forming a Mega Movement but when the concept failed he joined Peoples Democratic Movement (PDM) to achieve the impossible convincing Alh. Atiku Abubakar the erstwhile National Leader of AC to rejoin PDP when he was one of the signatories of thirteen that sent a letter to the Acting President of Nigeria, Dr. Jonathan Goodluck and copied to the National Chairman of PDP, Prince Vincent Ogbulafor informing the duo of the desire of Atiku Abubakar rejoining PDP a party he was one of the co-founders
Today, the Prince is confounded on what political step to take – to stay put in AC and forget his political mentor, Atiku Abubakar or join another opposition political party or rejoin PDP or even resign from politics entirely – that is the dilemma before this Prince who wants to become a political leader instead of the traditional leadership whose nature has bestowed on him by birth.
Let me critically examine some of these pressure and where it is coming from- The Rivers State Action Congress Exco led by Hon. Suage Alex Badey, it's entire Women's wing led by Dr. (Mrs.)Edith Wele, a majority of its Youth leaders across the state led by Hon. Norisia Pepple, Elders, several state party Chairmen and their excos, serving Commissioners, disabled groups, previous candidates and a variety of other stakeholders including Christian and Muslim religious groups and other ethnic bodies have in their various resolutions urged Prince Tonye T.J.T Princewill to without further delay rejoin PDP and help bring their vision for the State to pass under the leadership of the Rt Hon Rotimi Chibuike Amaechi.
The Rivers State Action Congress Care-Taker-Committee (CTC) led by Hon. Suage Alex Badey in conjunction with six other members of the Committee has in a resolution signed by each of them urged the Leader of the State Chapter, Prince Tonye Princewill to join the PDP as a step to move the State forward. According to the resolution passed after their 31st March, 2010 meeting stated that after much deliberations on issues affecting the Chapter after the exit of the National Leader of the party, Alh Atiku Abubakar, Action Congress will be reduced to a regional party which will not be capable of protecting the interest of the people of Rivers State and the Niger Delta Zone urges Prince Tonye Princewill to lead the party into PDP enmasse.
The stakeholders led by Dr. Ibiamu Ikanya the Hon. Commissioner of Special Duties and Barr Osima Ginah in their own resolution stated, "We the political Associates of Prince Tonye T.J.T. Princewill in the Rivers State politics after extensive discussion on the current political realignment in the country, the future of opposition political parties, the collapse of the National Democratic Movement (NDM) and the state of affairs in Rivers State and having critically appraised the character, nature and content of the current political dynamics in Nigeria, we hereby resolves as follows: 1. That the decision of National Leader of AC, Alh. Atiku Abubakar decision to return to PDP a party he actually participated in forming is a welcome development. 2. That our Leader, Leader of RS AC and Forum of Organized Opposition Political Parties in Rivers State, Prince Tonye Princewill should rejoin the PDP. 3. That our stand is based on extensive consultations with members of our constituencies, among ourselves and in the general interest of our dear State as we will do everything humanly possible to support this great idea". Other members of the Stakeholders Forum of the Princewill Political Associates are Alh. Musa Saidu, Chairman of the Rivers State AREWA and Hausa Community In Rivers State, Bishop (Dr) Boma Lawson of West African Mission, Dr. Mrs Edith Wele, the RS AC Women Leader, the LG Chairmen of the party, members of the RS AC CTC, Chief Gani Topba, Bishop Mike Ifijeh of Covenant Faith Assembly, Bishop Prince F.E. Gideon of Word Alive Xtian Centre and Bishop Felix Ezebuwo of Open Door International Church, Rev. dr Abiye Princewill, Rev. Dr. Ugoh Amaechi, Rev. Dr. Ugoh Lawrence and Rev. Dr. Fyne Amadi among others
In the same vein, the Youths leaders of the party in the 23 Local Government Areas of the State under the State Youth Leader, Mr. Norisia Pepple after their meeting of 2nd April, 2010 resolved and stated "After being disappointed with the failure of NDM/AC Merger and considering the quality of leadership of Tonye Princewill we the Youths of Rivers State urges and pleads with the Leader, Prince Tonye Princewilll to join PDP as we are ready to follow him as AC may not be a good platform to actualize our dream for the Rivers State people". Other stratum of the party including the women Group, Elders and stakeholders have in their various resolutions urged Prince Tonye Princewill to join PDP being the only credible platform through which we can make bring our vision for the State to pass.
In another development, about 23 Churches coordinated by Rev. Dr. Ugo Amaechi and Bishop Boma Lawson reasoned that the Prince instead of quitting politics as being threatened should join PDP so as to deepen our democracy and brighten the future of Rivers State/Niger Delta. We offer this advice taking into consideration our belief in the difference the Prince has brought into our politics urging him to heed to our sound counsel.
In a letter by the Physically Challenged Persons Association in Rivers State signed by Saturday Dobie stated that they have indentified the Prince as a potential Leader in the State and support the call on him to join PDP in order to bring to pass the wish of God to the State.
The Northern Forum South-South Zone comprising of the Arewa Consultative Forum, South-South has joined its voice to that of various groups and associations urging Prince Tonye Princewill the Rivers State AC Leader to leave the AC and rejoin the PDP. They made this known in an appeal letter to the Prince dated 19th April, 2010 and signed by the Forum's Chairman, Alh. Musa Saidu, its Secretary, Alh. Zubairu and Chairman of the Elders Council, Mallam Ayuba Mohammad in which they stated that his proven style of leadership and his marked interest of championing the interest of the people to realize the common dream and vision for Rivers State would be put to great use in the PDP. (Letter attached)
The Water Front Solidarity Movement (WSM) through its Leadership comprising Mr. G.O. Deresima (Chairman), Karibo D. F. (Secretary), Mr Benson Joseph (PRO), Prince O. Princewill (Coordinator) in a letter dated 19th April, 2010 (copy attached) expressed its solidarity to the leadership of Princewill. They stated that in the light of political realignments in the Nation and the State that they would support any decision reached by Princewill regarding his political future.
This latest development comes hot on the heels of a marathon three week intense consultation process that the Prince undertook to intimate his supporters on developments in the national politics and its implications on Rivers state. You may recall that Atiku's recent announcement of his return to PDP was greeted with overwhelming support from his associates of which the Prince is reputed to be a South South pillar. The Prince in conjunction with others from around the country followed the verbal endorsement with a written letter to the Acting President and the PDP National Party Chairman.
Supporters of the Prince had stated that Atiku's leaving had left a huge hole in AC and would leave Rivers AC exposed to undemocratic elements eager to hijack the party for selfish gains. Where before they were willing to fight that battle to prevent instability of governance in the state, now they no longer felt that threat was anywhere near as potent especially since they now had bigger fish to fry in the battle to save not just the state or the region but the entire country. AC they felt could no longer provide him the democratic national outlook he was seeking. His options therefore where to either resign from politics or rejoin his former party the PDP and do his best for Nigeria from there. En masse and except for a few dissenting voices they opted for the latter. In spite of this feedback received on the road, the Prince at every juncture had asked his supporters to put their views on record and in writing.
The Prince while thanking them for their willingness to follow him in whatever decision he made pleaded with his supporters to exercise patience so that the consultation would be comprehensive. He explained that not only politicians and friends would be consulted but other stakeholder groups as well like eminent personalities, opinion leaders, the media and my family. He described the decision as the toughest in his short but eventful political career and prayed for God to grant him the wisdom to carry his people along. He called on all his people inside and outside of AC that found his style of politics acceptable to be rest assured that whatever decision reached will not mean a change in objective or ideals, just a change in approach. He pleaded with all to avoid acrimony since as brothers we were free to pursue the path most suitable to achieving our objectives. If you want to keep getting what you are getting keep doing what you are doing. Different results do not come from the same process. Unless the process is changed the results will remain the same. This is what he has taught us and there is no doubt he appreciates this as well.
The fact is that I don't envy the Prince under this situation as whatever step he takes will either improve or mar all that he has achieved politically in his short romance with politics.
Eze Chukwuemeka Eze is a Media Consultant based in Port Harcourt
By
Eze Chukwuemeka Eze,
[email protected],[email protected], 08038199163