Caroline Danjuma Steps out with Husband to Debunk Failed Marriage Rumour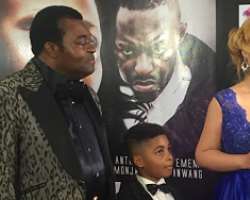 Nollywood actress, Caroline Danjuma, is one strong actress with a big heart and she has grown to a stage where one cannot easily predict her lifestyle or personality.
The actress for some weeks now have been rumoured to be having issues with her marriage to Musa Danjuma, but she has kept silent all along and has not even make any attempt to talk about it.
Well, like the saying, "seeing is believing" the actress made sure that people seeing her with the husband will shut all forms of rumours down as they power couple stepped out together with their two sons for the movie premiere of 'Stalker' which she co-produced.
On setting the family together, all cameras were beamed at them as many were surprised to see the man coming to show love and support his wife amidst rumoured troubled waters.