Staying in Mushin Helped Me to Learn Yoruba Language… Ireti Osayemi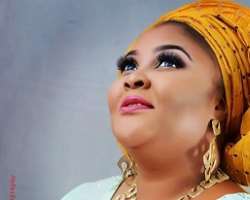 Wondering why some Yoruba actresses mix the English language when they are acting a Yoruba movie, well, not all are able to speak the Yoruba language fluently probably because of their upbringing.
Nollywood actress, Ireti Osayemi, is a case study to that and her excuse is that despite being a Yoruba lady, she did not grow up in Nigeria as a kid which is why she mixes her Yoruba with English language.
The actress, who grew up in Liberia and returned to Nigeria in 1991, stated that she started speaking Yoruba in 1992 and till date, she has been able to fit into the Yoruba movie industry very well.
According to her, "I started speaking Yoruba in 1992, so for me to be featured in Yoruba movies, I think I deserve an applause. I did not live in Nigeria as a kid; we got back from Liberia in 1991. I started speaking Yoruba the next year."
She gave credit to her environment where they were based at on their return to Nigeria which was Mushin as it helped her to understand her native language well.