GREECE 'TO ACTIVATE EU/IMF LOANS'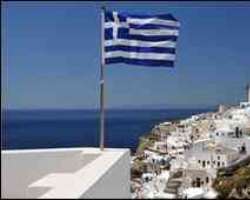 Greece is desperately trying to keep its financial flag flying
Greek Prime Minister George Papandreou is expected to ask for activation of the EU/IMF debt rescue mechanism, it has been reported.
It follows negotiations with eurozone nations and International Monetary Fund over the details of an emergency rescue package.
It comes a day after data showed a worse-than-expected budget deficit of 13.6% of gross domestic product.
Credit rating agency Moody's also cut its rating on Greek debt on Thursday.
The loans package has been put together to help pull the eurozone member out of its debt crisis.
Greece is swamped by 300bn euros of debt and needs to borrow about 54bn euros this year alone.
In the middle of April finance ministers of the 16 eurozone nations agreed to provide up to 30bn euros (£26bn) in emergency loans for debt-hit Greece should it ask for them.
At the time they offered a three-year financing programme at interest rates of about 5%, based on IMF formulas.