US TORCHWOOD REMAKE IS PUT ON HOLD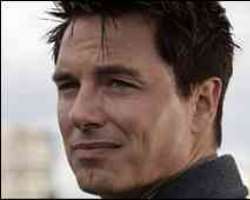 John Barrowman plays Captain Jack Harkness
Plan to make a US version of the Doctor who spin-off Torchwood have been put on ice after TV network Fox pulled out.
In a statement, BBC Worldwide said both companies had "mutually agreed not to progress together with a 13-episode serialized Torchwood format".
However, the BBC said discussions with other networks were continuing and plans to get the show made for US audiences were still in the pipeline.
The sci-fi drama, starring John Barrowman, has been a hit in the UK.
The show, which follows a group of secret agents battling human and alien enemies, began life on BBC Three in 2006.
It proved so popular that it was moved to BBC Two – and attracted another ratings boost when a third series was shown on BBC One last year.
However, the last move resulted in the series being cut from 13 episodes to five – allowing a single continuing story to be stripped across a week of programmes.
At the time, Barrowman criticised the decision, saying he felt like the show was "being punished".
BBC Worldwide is the commercial arm of the BBC.