You Have Failed! I Don't keep Compromising Pictures On My Phone--Rukky Sanda talk to Ghost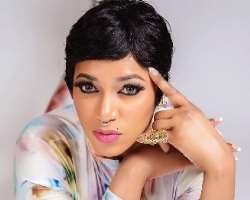 Nollywood actress, Rukky Sanda, may have enjoyed herself and forget to protect her phone at the just concluded Funny Bone untamed, which took place over the weekend in Lagos.
The actress explained that she does not bring out the phone which got missing outside because she uses it for music but had to bring it out because her friend, Oge Okoye, came to pick her up and so she wanted to share music she liked with them.
She stated that the phone getting missing is not the painful part but the memory card because it entails lots of music. She added that she is so happy that she does not have any compromising pictures on her phone so whoever took it has just failed to get her.
According to her, "Grooving while the phone was gone. Can I rant a little more about my phone please? I think it'll help me feel better. So usually that phone never leaves my car because I usually use it for music, got loads of songs on it. It left my car because Oge, picked me up and I really wanted poshesteb to listen to the remix of Breezy's 'Back To Sleep' so played it for them in the car and then story. Gosh I want my songs back not even the damn phone, just my memory card will do. Even though I Just might be talking to a Ghost, be a good ghost & those looking for n>des sorry to burst your bubbles but I don't keep or take compromising pictures."