Lilian Esoro in 'Messy' Fight with Nutritionist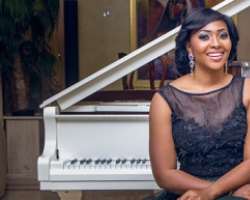 These days, some Nigerian entertainers are not taking chill pills at all as they now fire back at any of their fans who try to make a mockery of them in whatever form.
Recently, the attacks have been knocking on the doors of actress, Kate Henshaw, and she has been serving it hot as usual to her haters. The latest is pregnant actress, Lilian Esoro.
The actress recently shared a photo her the meal she was about to have which happened to be spiced noodles and salad to go with it and decided to educate her fans that it is good to eat healthy food but things turned soar after she got some annoying response.
ebube1881But how is this meal healthy lilian Esoroo?
lilianesoroo: Ebube1881 but how is it your business? Nutritionist. Omini knowest
dodeye4real: Yummy, but don't u think u eat too much fatty foods.
lilianesoroo: dodeye4real you don't think you should mind your own business?