I Never Dated Kunle Afod… Oluwajuwon Quadri Replies Haters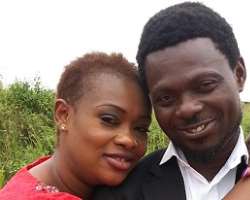 There have been rumours circulating recently about Yoruba actor, Kunle Afod, as he was alleged to be having extra marital affairs with UK based actress, Oluwajuwon Quadri.
The two became close friends after Kunle had helped the actress direct her first movie, 'Okan Mi,' and people began to insinuate that the two were dating afterwards.
In other to set the records straight, Mercyflawless, sent a message through to the UK based actress, she denied the rumours, stating that she does not know where it emanated from.
The happily married actress replied, "I never dated Kunle Afod, he directed my first film, Okan mi in 2014 and that's it. He is a good friend and nothing more. I don't know where the story sprung from. I still don't don't know what prompted that rumour or who started it."