How Omotola Jalade Spent Her Endorsement Deals Money over The Weekend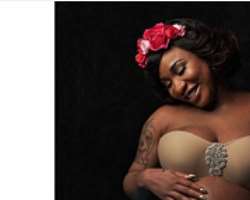 Energetic singer, Cynthia Morgan has been on and off the news for a while now. The singer is back to the spotlight as rumors are making waves that singer could be pregnant.

According to Naij, the singer was spotted at Ojodu Berger, looking bustier than she use to, skin looking pale and looking weightier than before.

This drew curiosity and some of her neighbors were interviewed. The conversation with her neighbors showed they are also suspicious about the German juice crooner.

They claim she has not been physically active like she use too, and her current physical appearance shows she could be undergoing a nine month course of being a mom.

Tough, the singer hasn't come out to refute the rumor yet, but curiosity is taking over as people are anxious to know what the real truth is. Let's keep our fingers crossed as we would update you with more juicy details as soon as we get one.