I Can't Have S3x with a Girl Who Can't kiss…Baba De Baba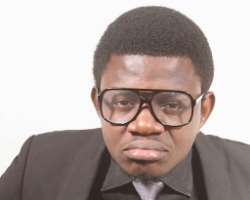 Sometimes, it is good to get to know how romantic some of these Nigerian celebs can and Nollywoodgists.com decided to hold down comedian, Chidi Uzoma better known as Baba D Baba, to seek about his romantic life but he wasted no time in explaining what he loves to do with a woman.
He revealed that he cannot get down with a woman without starting with a kiss since it is what he loves doing.
The comedian also added that he cannot he cannot date a girl that can't kiss as he prefers kissing more to s3x.
According to him while speaking with Nollywoodgists, "bros, I prefer kissing o, infact, I can't date a girl that can't kiss."
When asked on what's so special about kissing for him he said, "I can't just explain it but I can't have s3x without kiss first. I'm just a very romantic guy"
Despite how busy the Nigerian entertainment industry is, Baba D Baba, is wasting no time in maintaining a stable stand in the industry as he has just released a romantic comedy skit titled 'TEMITOPE PEE.'
According to the comedian, 'TEMITOPE PEE' is a call girl the comedian wanted to give a cheque but he ended up not giving her the cheque because she could not spell her name.