How Much Is The Life Of A Nigerian Worth?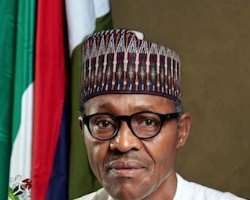 His Excellency,
Gen. Muhammadu Buhari,
President And Grand Commander Of The Armed Forces,
Federal Republic Of Nigeria
Dear Sir,
How Much Is The Life Of A Nigerian Worth?
If only I have had the privilege of procuring the Lapis Lazuli, I wouldn't have hesitated in handling it out to you sir, even though I've only met you once, My heart melted like ice in a sunny island, I instantly froze with absolute permittivity of free space, I was overtaken by an atmosphere of terrorist attack I stood with awe and I was unable to use any of my professional prowess as you address the crowd while emphasizing on the drastic change that enveloped the Soviet Union. You are an astute man with apt attention to detail, whose presence is enough to produce a qualitythatpleases or attracts; a delightfulcharacteristic: A mischievousgrinis amongtheone of your many charms.
Sir, since your assumption of Office as President and GCFR of this great country, your schedule has clambered with high alacrity that is duly expected of a commander-in-chief even with the mess the past administration left for you to clean up considering you never worked as a cleaner, you have traveled far and wide trying enormously to rebrand our international Image, make foreign investors troop into our shores, recover stolen or looted funds, and Place Nigeria where she belongs to amongst the league of nation. In you Nigerians see the messiah who is ready to "turn our water to wine".
Mr. President, as much as I pray tirelessly every morning for the success of your administration, I realized that it is eminent that I no longer pray alone but begin to take actions that would affect the changes you promised; hence I write to remind you of some crucial things that the tide of your schedule might have washed ashore.
Sir, Please be reminded that it is a waste of time to be well respected outside our home whereas our home is in utter chaos mentally! Sir, I wish to reiterate that the mentality of the citizens of a particular country determines the pattern of growth of that country; hence the vigorous media work you did to win the 2015 general elections needs to be channeled into re-branding the mentality of the average Nigerian as that is the basis of change. The Past administrations has succeeded knowingly or unknowingly to mentally brand the average Nigerian as a Corrupt, Nonchalant, Self-centered, Uneducated, sycophantic, hooligans and all what not accrued to the highest level of negativity. Your call for change must put on the mantle of re-orientating the common Nigeria on the Value of life and the concept of human dignity as related to a man's life.
Mr. President if I may ask "HOW MUCH IS THE LIFE OF A NIGERIAN WORTH?"
Sir, it would amaze you to know that an average Nigerian does not value Life, the various sector of the country is nonchalantly administered, a livid example is the Nigerian military vested with the power to protect and defend our territories against insurgency and war but whose leadership betrayed the trust of the Nigerian populace by diverting funds meant to fight insurgencies for personal use to the detriment of thousands of Nigerians who died mischievously because of some people's mental disorder.
Mr. President, the entire country is being administered with the wrong mentality the Police force is nothing to write home about, I personally had my hatred for the Nigerian police since my first encounter with them in 2003. An average Nigerian police does not place any value whatsoever on the life of the citizens this has led to thousands of lives and properties being lost by the citizens, some policemen go to their duty post every morning with the sole aim of doing business and making money for themselves and thereby leading to loss of life and property as a result of not placing any value on life.
The Medical parastatals whose duties are to treat Nigerians by preventing death and any other casualties would never attend to you if your money is not complete thereby placing more value on money as regards to the human life. The Nigerian doctors go on incessant strike being aware that there are patients who need medical attention and such doctors would still retain their license.
Mr. President let me be straight, as it is crystal clear like the biblical MENE MENE TEKEL UPHARSIN , that all the sectors of the country is badly administered with the mentality that places no value on life whatsoever the education sector is one of a kind at such; Education is the best legacy a nation can give to her citizens especially the youths. This is because the development of any nation or community depends largely on the quality of education of such a nation. It is generally believed that the basis for any true development must commence with the development of human resources, but reverse is the case as our educational setup is one of the worst administered all over the world. Students are just being siphoned without getting value for their tuition and thousands of ungradable graduated are deployed into labour market.
Mr. President I wish to share my ideology with you sir that man's dignity is embedded in his right to life, intrinsic in nature, accrued to man from birth to death, and that man's dignity is an inalienable right to life. Subsequently the environment, culture and the law should be harnessed to protect such dignity as that is the essence of the existence of the law. That the Family is the homebred of genuine freedom, thus, the family should be protected by law as a unit of the society, a subset of a set duly protected by law.
That where there is explicit and natural respect for the human person and the family, the environment would experience development in different realms which includes physical, spiritual, mental, and emotional growth.
In bringing these ideas to life, "You have to dare to look reality in the face and take a whack at some of the long-standing privileges, "so long-standing in fact that they seem to have become normal, unquestionable." And that's the most daunting thing of all, because it requires a struggle with the person in the mirror.
Sir, in saying all this it is expedient that you look into this matter with vociferous alacrity as change they say begin from within, as the president of the federation, though the task is challenging but i trust that you have the virtue to brace yourself up for this task while utilising every iota of resources within your disposal to define to every Nigerian the how priceless a Nigerian life is.Your continuous charge to the people would not only help make Nigeria a better place live and help ease your anti-corruption war.
Finally Sir, as much as I wish to write on, let me put a stop to my Voyage by aligning you with my early morning ritual which is to ask myself this simple question, "How much is the life of a Nigerian worth"! This question prepares my heart for my day-to-day interaction with people and my relationship with the environment. Sir, I hope you find it important to always ask yourself that question and you influence the entire Nigerian populace to do the same.
I strongly hope that with a renowned mentality and a clear understanding of how Priceless a Nigerian life is, Nigerians and Nigeria would change for better.
Sir, to you and every military man whose valentine would be spent protecting our borders and ensuring that there is peace in Nigeria, I say happy Valentine with Love from a grateful heart.
#Freedom
#HowmuchisaNigerianworth?
#PricelessNigerian
Utmost Regards.
Olawole Olakunle Moronfoluwa
07011328513
[email protected]
Disclaimer:

"The views/contents expressed in this article are the sole responsibility of the author(s) and do not necessarily reflect those of The Nigerian Voice. The Nigerian Voice will not be responsible or liable for any inaccurate or incorrect statements contained in this article."
Articles by Prince Charles Dickson