IMPROPER, LATE DIAGNOSIS OF AILMENTS OVER IN ONDO STATE —MIMIKO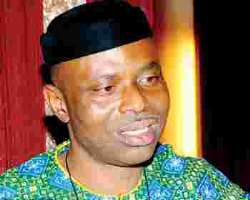 Ondo State Governor Olusegun Mimiko, on Thursday turned the sod of the multi-million naira Gani Fawehinmi Diagnostic Centre in Ondo, with a promise that citizens of the state would no longer die of improper or late diagnosis of ailments.
He said the choice of a diagnostic centre for the state among other health facilities was not unconnected with the realisation of the importance of early and correct diagnosis of any medical condition to enable early intervention and possible cure of the patients.
Mimiko said his administration inherited, among others, a lot of health-related challenges such as inadequate and overstretched health facilities, inadequate manpower and insufficient support for efficient health care delivery.
He said that was what informed his promise on assumption of office to bring all the health challenges to the lowest level possible through the various activities and projects outlined for execution by his administration.
He said the diagnostic centre was where proper diagnosis shall be carried out before the commencement of treatment in order to address the medical conditions of the people of the state so that the right treatment would be given to all ailments.
The centre, according to him, shall contain CT scan station, sonography station/colour doppler, MRI station, digital X-ray station, MRI system room, mammography station, pathology station, video conferencing auditorium, telemedicine and a VIP lounge.
He added that the choice of a name for the centre was borne out of the desire of the state government to honour Fawehinmi, who, during his life time, fought for the wellbeing of the common man irrespective of tribe, creed and political affiliation.
He said, 'Chief Gani was a legal icon, who positively affected humanity with all he had physically, financially, morally and intellectually but died of poor diagnosis of a medical condition.
'Today, we are all gathered to start a journey towards putting an end to that which has claimed lives of many of our sons and daughters, that which has, times without number, snatched our beloved and promising children away, that which is called improper and late diagnosis.'
Mimiko added that various measures had been taken by his administration to ameliorate the health problems of the people of the state.
He said, 'In doing this, we not only wish to provide adequate curative measures to ailments, but accurate and reliable diagnosis of ailments that will result in lasting treatment of such.
'The days are almost over when our people die of undiagnosed ailments, thus, various measures have been taken to ameliorate the health problems of our people. The mother and child hospital was inaugurated in February to adequately care for our pregnant mothers and children under five years of age.
'Two others are to be built in other parts of the state this year to further combat the maternal and child mortality rates in the state.'
The event was graced by the late lawyer's family members, traditional rulers and other dignitaries.