Forget My Physical Disability, I'm a Very Romantic Man… Cobhams Asuquo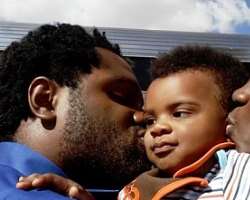 When marriage crashes, the two parties involved always bear the brunt, but in the case of Nigerian comedienne, Oluwadamilola Adekoya, popularly known by her stage name Princess, she seems to be the only one in pain since she parted ways with her hubby three years ago.
The plus-sized rib-cracker however, disclosed that comedy has helped her overlook all the mockery and criticism she received after her failed marriage.
The chubby comedienne whose marriage to her husband, Adesola Jeremiah came crumbling three years ago, said it was a very rough moment for her as the whole situation had a hard effect on her, but ?she also added that time heals wounds.
She stressed she is yet to get over her estranged husband because love does not go away just like that, and as such it takes times and sometimes it never disappears.
"Three years ago when I had a broken marriage, I was psychologically down, but it was the same thing that brought me down that became my strength. That is one of the psychological powers of comedy. It heals. People around me also helped in recovering from the most challenging period of my life," Princess said.