Acting Made Me Never to Bribe Anybody in My Life…Saint Obi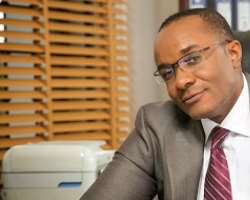 Nollywood actor, Saint Obi, who has been a bit scarce from the movie industry until he recently surfaced with two new music video, has explained that unlike some actors that stumbled into acting by chance, his case is different.
He explained to Punch that right from his childhood days, he has always wanted to be an actor due to the fact that he watches lots of foreign movies then and that inspired him wanting to do what they do in movies.
The actor stated that studying the craft made him understand that it is more lucrative as it can turn him to a millionaire than delving into crime and that propelled him into who is today.
"I am not one of the accidental actors in Nollywood. As a child, I had always wanted to be an actor. I was drawn to acting because of the fantasies. As a child, I grew up watching American movies and I used to love the actors I saw on screen. As I grew older, I found out that I could be successful without venturing into crime. I found out that it was a very plausible platform to become a millionaire without bribing anybody. All you need is your talent and God's grace. That made acting more compelling for me," he said.