See What Happened to This Man After Stealing 13 pairs of shoes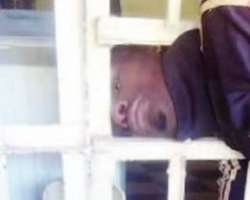 Every day for the thief but one day for the owner and really, luck ran out on this thief in Jos, whose head got stuck in between the metal bars of the burglarproof, holding him in place.
The suspect, 32-year-old Sunday Clement, had broken into the store at night, and robbed the owners of 7 pieces of suit, two blankets, 13 pairs of shoes, and the pieces of bed sheets. But as he made to escape through the window's burglarproof which he had forced his way through, his head got stuck, and he remained trapped until the owners showed up in the morning.
According to Punch, the police was alerted and he was helped out by a welder and arrested.