February 10, 2016

| AMEBO
Toyin Aimakhu's Husband, Adeniyi Johnson Finds New Love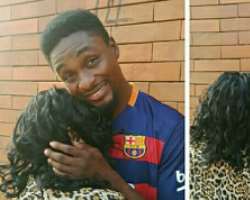 Estrange Nollywood lovers, Adeniyi Johnson and Toyin Aimakhu, are no news anymore to lovers of the Nigerian big screen as both parties have parted ways due to allegations of infidelity.
Toyin had accused her husband, Niyi, of flirting around after she got hold of his phone and bumped into a chat he was having with another lady.
It is not also news that Toyin has since moved on with her life despite the plea from her husband and currently pitching her tent with Lagos big boy, Seun Egbegbe, who is also being rumoured to lover boy to some big names in the industry.
What has just surprised many fans is the fact that Adeniyi, has finally summoned the courage to move on with his life after he almost revealed an allege woman who seems to be the one cooking his food for him these days.
He flaunted the rare picture of the lovely damsel but tried to protect her identity from the public while fans keep guessing and some telling him it's too early to move on just like that.