Forgery: Fayose wants Buhari to withdraw 2016 Budget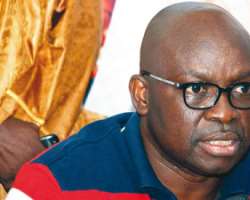 Ekiti State Governor, Ayo Fayose, has advised President Muhammadu Buhari to withdraw the 2016 Budget over alleged embarrassment it has caused government.
Fayose in a statement issued on Tuesday by his Special Assistant on Public Communications and New Media, Lere Olayinka, urged the President to accept responsibility for what he called 'avoidable errors' in the budget and re-present a new and credible budget to the National Assembly.
According to him, the latest revelation by the Minister of Health, Prof. Isaac Adewole, that the budget presented by the ministry to the Budget Office had been doctored necessitated the need for another budget.
The governor described the situation as the height of national embarrassment.
Fayose said; 'Last week, we were told that the Senate discovered a sum of N10 billion questionably smuggled into the budget of the Ministry of Education for an allegedly questionable subhead.
'Also, we were told of the existence of a budget mafia in the Presidency that was said to be responsible for the embarrassing allocations in the budget.
'Before now, we were told that a total of N3.87 billion was allocated for capital projects at the State House Clinic alone, over N700 million more than capital allocation to all the 16 federal teaching hospitals combined.
'Now, a whole minister has come out to say that budgetary provision for his ministry was forged!
'If under a President that says he is fighting corruption, the budget of the country got missing and we are now being told that the budget being considered by the National Assembly has been forged, one cannot but be afraid that there is possibility of Nigeria being forged one day, after the original must have gone missing.'- The Nation.