Don't Force a Relationship That was not meant for you… Regina Chukwu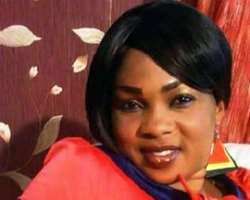 So yesterday uncle Egbe decided to flaunt his range rover (the one Toyin drove for weeks) before they fought and he took back from her, and we carefully noticed the ride, the floor, the stairs, entrance and gate cus the photos were many. Fast forward to this morning, Toyin also posted two photos to begin her morning and alas it turned out to be she posed beside the same ride, on same spot (floor), by the same entrance and the black gate also gave her away. Continue...
It's safe to say her marriage with Niyi has hit the rock, and her new boo is the only rumoured lover of many years, Seun Egbegbe.
We no longer need any confirmation, it's safe to say Toyin Aimakhu's marriage with Niyi Jonshon has hit the rocks and it's no longer rumours. Her new boo is Suen Egbegbe and it is only a matter of time that the two adults will come out and show their love to the world. By the way, before you call Toyin names, don't forget Niyi cheated on her, Toyin caught him red handed and was forced to make a public apology sef, so it's not about Toyin and more so, as we can see they are now separated. Oya check out the evidence below…