Paul Okoye Sniff's Around Popular TV Studio to Promote New Artiste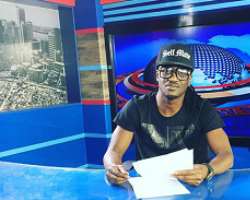 There is just something fascinating about the P-Square duo of Peter and Paul Okoye, which has made many wonder in silence as they await to see the turnout of things between the duo.
Probably they both agreed to have some time off to face their individual businesses, fans are yet to understand the game plan.
While Peter is busy traveling around meeting with top football stars to discuss about his football management company, his brother Paul, is busy ensuring that his new artiste Munosings, under his new label is brought to limelight.
Recently Paul took it a step further as he visited popular media station to see how things are done and also use the medium to promote his new artiste. He sat in the news studio to have a feel of how news is being cast while he unveiled his new artiste.
Well, fingers are still crossed and hope after they have settled their businesses, they will hit the studio for more hit songs this year.