See Pastor Whose Feet Must not Touch The Ground While Preaching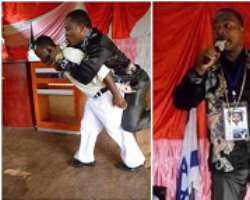 No matter what happens in life or the challenges one goes through, the religious sector is always the last option where one decides to run to no matter what could be possibly said about the a church leader.
According to reports, a popular Pastor, who owns a church in Tanzania, has made his members believe that as a man of God, his feet must not touch the ground while sharing the sermon.
The man of God is said to mount the back of his members all through the period of the sermon which is said to always last for five hours.