I Have Been Heartbroken Severally Before I Met My Wife… Evangelist Mike Bamiloye Confesses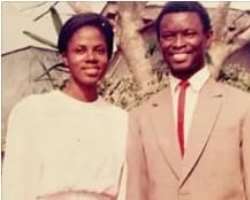 Power house couple and owners of popular Christian movie producers, Evangelist Mike Bamiloye, with his wife, Gloria Bamiloye, sure has lots of stories to tell about their love live life as the man of God recently celebrated his wife who turned 52-years on Thursday, February 4.
Evangelist Mike while celebrating his wife, used the opportunity to recall how it took his wife one month to accept his marriage proposal.
He stated that as at those times, he never rehearsed any Love persuasive Poem nor beat about the bush as he went straight to the point to make his intentions known.
In his words, "The day I went to propose to her, I never beat about the bush or rehearsed any Love persuasive Poem. I never said anything like, the Lord sent me or I felt the Lord is leading me. Or I dreamt and saw you Or I heard a voice from Heaven that. I had said some of those things before to some sisters whom I thought the Lord was leading me to, and I was wrong. This time around, I went to this new sister, after my usual much Prayers and Waiting. I was not even sure if the Lord was leading me or not again. My computers have been crashed and the memory virused by the previous disappointments I had met from the sisters I had thought were the will of God.
"So, I arrived the campus and the brethren were happy to see me. I usually came at evening time, for Drama rehearsals or if there were drama outreaches, I would come to go with them or lead them to the programs. But this time, I came during the day, at lecture time and many of the brethren were coming to me to know why or what information I had brought for the Fellowship Drama Unit members. I simply said I came to see Sister Shola. And that was unusual of me. I don't come asking for sisters in the fellowship.
"So, some brethren spread out to look for Sister Shola. And one sister found her in the school Library and grabbed her hand: Bro. Mike is around. He is looking for you. The sister brought her and left. Sister Shola stood before me smiling, and waiting for the instructions, probably to the Drama Unit, or information of her being casted into a new Drama Unit presentation. I greeted her. She replied with a smile. I told her bluntly, that the Holy Spirit had not sent me neither did I see any vision. Then, I asked her: WILL YOU MARRY ME?
"She stood before me speechless for some minutes, looking at me with some astonishment and confusion. She was never expecting to hear such question from "Bro. Mike" of all people! She was lost for words, because it was the last thing she would expect to hear from me.
"I got my answer after one month of waiting. It was on a Sunday Morning. After the church service, I went to wait for her at the front of her house. I just wanted to greet her again and look at her again, and maybe the Lord would answer my prayers this time. She came not so long and ushered me into the house quietly. She was quiet. She was not showing any excitement, which got me more worried again. I sat down on a chair while she was writing something on the table. Then, she finished writing, and she turned to me with a small piece of paper containing ONE SINGLE LINE OF SENTENCE: "I WILL MARRY YOU"