Photos from Taiwo Ajaiyi Lycett's 75th Birthday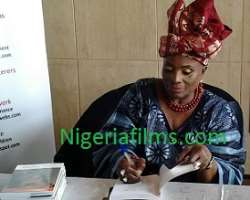 Recently, veteran Nollywood actress, Taiwo Ajaiyi Lycett, celebrated at her 75th birthday in style and at the same time, used the opportunity to launch her book.
The event brought friends, families and some of her Nollywood colleagues with the like of Wale Ojo, Ireti Doyle and others.
Taiwo, who is also part of the cast of popular TV series, Tinsel, get a gift from the crew for her contribution in the development of the Nigerian movie industry.