Chika Ike Meets with NAFDAC Boss, Plans New Business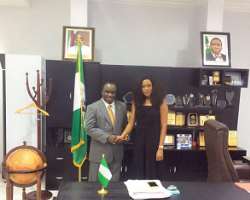 Nollywood actress, Chika Ike, sure has a lot under her sleeves and she can't wait to reveal it to her fans who have been wondering what she has been up to for a while now.
The year 2016 is starting in a good note for her as she shared a photo of herself with the National Agency for Food Drug Administration (NAAFDAC) DG, Dr. Paul Orhii at his office in Abuja, discussing the ideas behind her new business which will soon be unveiled.
With the news of her new project to be unveiled soon, one begins to wonder if the actress is planning to delve into consumable goods and decided to seek NAFDAC's opinion on the criteria needed to run such a business in the country.