Duncan Mighty Get's Free Lift on River State Private Jet to Lagos for Video Shoot (photos)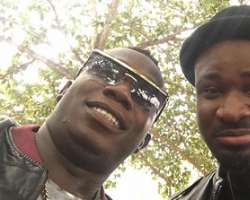 Port Harcourt base Nigerian singer, Duncan Mighty, is currently in Lagos to shoot is musical video shoot of his latest music 'Akagum' where he featured Five Star record singer, Harrysong.
Duncan Mighty flew into Lagos courtesy of a free air lift from the Governor of Rivers state, Nyesom Wike's Private Jet.
The duo are already getting dressed and getting their face beat as they are about to face the camera which is being directed by Adasa Cookey.