NFC Exclusive: I Was Misquoted, A Woman Can Never Make Me 'Wet'- Ruth Eze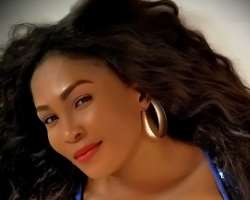 Last Saturday, Sun Newspaper splashed Nollywood actress, Ruth Eze, on their cover with the headline of how she feels for veteran actress, Genevieve Nnaji, within few hours the story went viral and hell was let loose.
Nollywoodgists.com took time to reach out to the Imo State born script interpreter to know what she exactly meant by crushing on Genevieve Nnaji.
In a emotional laden voice, the actress ?lamented that since the Newspaper broke the news, she has been receiving countless embarrassing calls.
Ms Eze refuted the claims ?that superstar actress, Genevieve Nnaji Makes her 'wet', but maintained she admires her as a role model.
In her words; "? I was misquoted. She can never make me wet. In fact I can never be sexually aroused by any woman, whosoever. The reporter that interviewed me took it out of proportion. It's so embarrassing. My mother, sisters and other concerned members of my family have been on case. They are so disappointed.
I want to seize this opportunity ?to clear all this up. I have never had the intention of been bi-sexual. It's against God and humanity. I would have taken up the issue legally, but was advised against it by my senior colleagues.
I also want to apologize and seek for the understanding of all those this negative reports have affected in any way. I was never my intention to put anybody through any form of embarrassment"
?Ruth Eze is a talented actress cum scriptwriter, whose mum did not initially approve of her coming into Nollywood until she assured her that she would not disappoint their family."
She has written and also starred in over a dozen hit movies including Girls Crip, Emo­tional Mistake, Desperate Hawkers and Pregnant Hawkers among others. However, Ezeh believes her best is yet to come.?