Leicester beat Liverpool 2-0 to stay three points clear at the top of the Premier League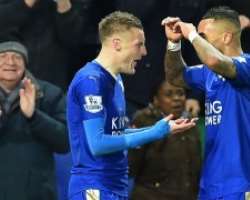 Leicester City is still atop the Premier League, and in a midweek game against Liverpool on Tuesday the team took a stunning lead in the second half when Jamie Vardy did this:
That right there, that's Leicester City in a neat clip. They defend well, they counter quickly, and they have a striker in Vardy who is playing as if Zeus himself was controlling his boots.
I can't imagine having that kind of confidence. That's a preposterous shot he just attempted, and he ripped it in the back of the net.
At a certain point, Leicester City needs to be taken seriously as a real contender to win the Premier League. We're no longer in "nice story" territory. This is real.
Jamie Vardy scored twice as Leicester beat Liverpool to stay three points clear at the top of the Premier League.
The England striker opened the scoring with a brilliant 25-yard strike over goalkeeper Simon Mignolet from Riyad Mahrez's long ball forward.
And he sealed the victory when he turned home Shinji Okazaki's deflected shot from close range.
The Foxes fully deserved their victory, with Mignolet touching an Okazaki header onto the bar in the first half.
FTW!Soccer/ BBC