10 Years After Ibinabo Fiberesima Still Suffering For Killing Dr. Giwa Suraj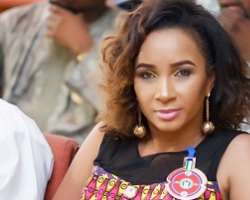 It's been 10 years since former AGN President, Ibinabo Fiberesima-Egbuka's reckless driving led to the death of one Dr. Giwa Suraj.
However, yesterday the Lagos state Court of Appeal reserved judgment in the appeal filed by the actress, challenging the judgment of a Lagos High Court which sentenced her to five years imprisonment for the death of the doctor.?
In 2006, Ibinabo was sentenced to five years imprisonment by Justice Deborah Oluwayemi of a Lagos state High Court for reckless driving which led to the car accident along the Lekki-Epe expressway, Lagos on February 26th.
However, dissatisfied by the ruling of the High court, Ibinabo filed an appeal through her counsel, challenging the decision of the Lagos state high court to quash a N100, 000 fine without prison time, given to her by an Igbosere High Court.
After that, she also wasn't satisfied by the judgment of the Magistrate court, the Lagos state government then approached the High Court who quashed the verdict of the Magistrate court and sentenced Ibinabo to 5 years imprisonment. Ibinabo then appealed the judgment of the High court.
At the hearing of the appeal yesterday, January 28th, the appellate court presided over by Justice Ndukwe-Anyanwu, reserved judgment in the appeal after counsel adopted their written addresses.
The court directed that Ibinabo who was not in court, should be present when the final judgment is to be delivered, adding that the date of judgment would be communicated to the parties.?