ABOUT THE RIB-CRACKING COMEDIAN, EMMANUEL AHO-a.k.a HEADMASTAR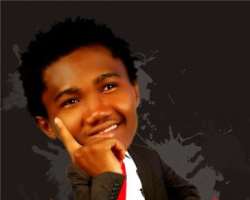 Omini Emmanuel Aho, was born in the city of Calabar where he spent most of his childhood. He started off in the entertainment world and broadcasting at the Cross River Broadcasting Corporation as an on-air personality on the radio arm of the broadcasting corporation. He discovered his talent as a comedian while hosting his programme which later became a darling to every radio listener in and outside Cross River where he made humorous comments/statements and also cracked jokes. He was also, a regular feature as Master of Ceremonies/Host, at various events and ceremonies in and around Calabar.
Headmastar, in a quest to further his career path, made his way to Lagos where he engaged his talent as a humourist and appeared in public and private shows, all to critical acclaim from both the members of the public and the media. In a bid to carve a niche for himself, not only as a presenter, but also as a master compere, he attended the Radio Nigeria Institute of Broadcasting for a course in Basic Public Presentation. Headmastar, has over the years engaged in certain developmental activities which are geared towards ensuring that he is viewed as a colossus of sorts in the world of public presentation and entertainment. Such activities include tutelage under the greats of public presentation and entertainment as; Etoma Edu of inspiration Fm, Okey Bakassi, Basketmouth, Gbenga Adeyinka d 1st (CFR), Alariwo of Africa and many more.
This multi-talented promising child is by no small means an entertainer per excellence as he has excelled in other ventures of entertainment. Headmastar is also a musician and an actor, having feature appearance in the movie 'FRANTIC', which featured A-list actors in Nollywood. Also, he was the supporting actor in 'TRICE SHOW', a popular soap opera which aired on CRBC.
Currently, Headmastar has to his credit, various events, concerts and show where his artistry as a comedian and master compere has been brought to bear. These include:-
• Calabar Christmas Festival (2006-2009)
• Miss Tourism Nigeria (Calabar; 2006)
• Senator Liyel Imoke Fund Raising Dinner (2006)
• Calabar International Jazz Festival (2006-2009)
• St. Leo Family Funfair(2007)
• Laugh Café (2007)
• Miss Valentine (2007)
• Chains of Laughter (2007)
• Nigeria Telecoms Awards (2008)
• City People Awards (2008,2009)
• Ericsson End of the year party (2008)
• City People Brands Award (2008,2009)
• Eminent Achievers Awards (2008,2009)
• LEAD Awards (2008,2009)
• First Trustees End of the Year Party/ Awards (2008)
• Redbull Payback Promo (2009)
• Miss Telecoms (2009)
• Nigerian Breweries Trade Fair Rave (2009)
• Lagos Leadership Awards (2009)
• D'Nest Family Foundation Launch (2009)
• D'Nest Family Foundation Couples Fest (2009)
• Guinness Beer Carnival (Calabar & Uyo; 2009)
• Skal International Golden Jubilee (2009)
• Association of Consulting Engineers of Nigeria (ACEN) Golden Jubilee (2009)
• Seven Point Zero (Haiti Benefit Concert; 2010)
• Inter-denominational choir fest (2010)
• City People Easter Jamz (2010)
• Headmastar in 'Redemption' (2010)
• Redbull 'Street striker championship' (2010)
• Muma Gee Album launch (2010)
• Weddings, birthdays, launchings e.t.c.