Uche Ogbodo Under Blast Over Stretch Marks on Her Oranges (photos)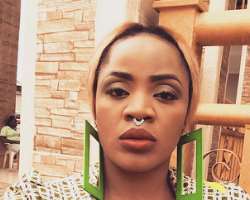 To a large extent, not every Nigerian entertainers are truly enjoying social media but the question is who should be blamed for the various bully they get from fans?
One of such person who has been in the news recently is popular Nollywood actress, Uche Ogbodo, as the mother of one continues to get bashed on social media over what some of her fans don't seems to be comfortable with.
First she was blasted when she started going around with big nose ring which many have made it known to her that it is not befitting yet she chose to ignore their warnings. Recently she shared a picture from her movie location 'Street girls' and it caused serious issues after the fans had seen what was provoking.
Her recent picture in the movie location had her mammary glands exposed with stretch marks and fans had to pounce on her with various criticisms.
ask4chiomy: This is not been sexy if is just for a movie role no problem that's your job. Please if this is fashion. Mehn I don't know what to tell you. Just watch it before it will ruin you. Seriously you are loosing it psychologically without knowing. I know someone must have hurt you and you decided to be baddest. Sweety you deserve better cover the boobs let responsible people walk in. Opening the boobs is a no for me. I mean no disrespect.
splendidozyI: sale stress marks creams one month is off for real.
blackobyno: Stretch mark is too much on your boobs, gosh irritating!
sylvestercollins: Uche Ogbodo why doing this to yourself? These days I don't recognize you anymore.
beautifullily3: Chai!! This your ear ring na wa. Let me tell you the truth, the nose and ear rings don't look good on you uche ogbodo
freshjenny101: Babe don't force it fame if it in you, it in you for real you don't have to cause unnecessary attention to yourself because it doesn't suite you no need for all this babe stop causing insult to yourself because it doesn't worth it my dear uche ogbodo