Phyno, Soon to be Capital Oil Ambassador?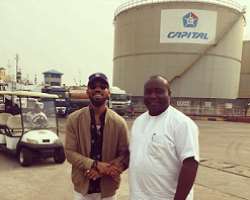 Though not confirmed yet, but something nice seems to be brewing between singer, Phyno and millionaire oil magnet, Ifeanyi Uba as the two were seen together at Uba's Capital oil depot.
Unsure what business they might be having together aside being brothers from same region, there could be possibilities that he might soon be the brand ambassador to the company.
Recall that some days back, the oil magnet pumped in some amount of money into his football club, Ifeanyi Uba FC, as he got the services of a Brazilian coach and some players who have since arrived the country.