Wizkid is Trying to Bring Me Down and I'm Going to Fight Him…Blackface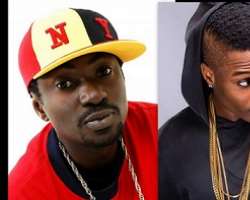 The Nigerian entertainment industry is getting more interesting as the day goes by with various misunderstanding between various artistes in the country.
It will be proper to say that the New Year began in a rather sad not for some entertainers and it has gradually eaten deep thereby affecting other artistes who have began coming out to challenge each other on various intellectual theft allegations.
The recent attack was between Wizkid and Blackface, as Blackface accused Wizkid of trying to bring him down in some part of his lyrics in his latest single 'Killa.'
In an interview with Punch, after the news went viral during vthe week, the singer explained that he does not have issues with Wizkid but he should learn to seek consent before using any person's material.
"If you check properly, you would realise that Wizkid's hit, Ojuelegba, sounds exactly the same as the track 13 on my dancehall album released as far back as 2010. You need to listen to that album to know what I am talking about. The song is so similar that I think it shouldn't be that way. Well, in Killa, I sang that "they tried to copy my melody," and the bloggers got a hint of the gist and put their reports out. What I said is the truth and I am going to get to the root of this matter because I deserve justice.
"The Ojuelegba song has made so much revenue for Wizkid. I am not bothered about that but I want the industry to be in a position whereby people will understand that some of the artistes and the songs they are cheering is someone else's efforts, especially fellow artistes that they are doing everything to bring down. All they are doing is to bring down Blackface and to say that he is not relevant in the industry. Some people are bent on killing my legacy. I believe there is definitely a gang-up against me in the industry and this has been going on for a long time," he said.