Buhari fulfills 31-year old promise made to victorious eaglets, rewards others too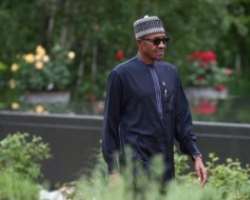 President Muhammadu Buhari on Thursday doled  out N2m each to the members of the victorious Under-16 Male Football team that won the maiden edition of the FIFA Cadet Championship in 1985 when he was still in office as Head of State,.
For the spectacular feat achieved by then young Nigerians 31 years ago, when Buhari was military head of state,  the players which included Fatai Atere, Nduka Ugbade, Jonathan Akpoborie, Baldwin Bazuaye, Victor Igbinoba and late Kingsley Aikiobare among others, would each get cash rewards of N2million each while their coaches get N1.5million.
He made the announcement when he hosted Nigerian Athletes and officials who did the nation proud at international competitions since May 2015 when he was sworn in as the President of the country.
He said the reason for the delay in the fulfilment of his promise made to the Under-16 Football Team that won the 1985 FIFA Championship, was well known.
The President almost caused a scare when he mistakenly announced a cash reward of N200m instead of N2m for the 1985 Under 16 FIFA Champions.
Announcing cash rewards for the other athletes in different categories, he explained that government was constrained because of its dwindling financial resources.
The team that won gold medal at the 2015 FIFA U-17 World Cup in Chile, would get rewards of N1.2m each for the players; N900,000 for the Head Coach; N300,000 for Team Secretary and medical team as well as N200,00 each for other officials.
The team that won gold medal in the 2015 Africa U-23 Cup of Nations in Senegal, the players and Head Coach got N500,000 each; while the assistant coaches and other team officials got N300,000 each.
Adekoroye Odunayo , who won a bronze medal in the 2015 World Championship in Las Vegas got N1.2m while her coaches, Aku Purity and Daniel Igali each got N600,000 .
D'Tigers team who won gold medal in the 2015 Male Afro-Basketball Tournament in Tunisia, the players and the coaches got N600,000 each while team officials got N250,000 each.
Silver medalists and their coaches in the 2015 FIBA Africa U-16 Female Championship in Madagascar, each got N400,000 while team officials got N150,000 each.
Gold medalists for the 2015 IPC Asian Open International Power lifting Championship in Almaty-Kazakhstan, would get N600,000 each; silver medalists and coaches get N450,000 each while team officials would get N250,000 each.
Wellington Jighere who won gold medal in the 2015 World English Language Scrabble Championship in Peth-Australia got N1.5m while his Coach, Anthony Ikolo got N1.2m and the Team Secretary, Makano Adamu got N450,000.
Olanrewaju  Durodola who won the WBC Cruiser title was also rewarded with N1.5m. No reward was announced for Onye Lauritta who won gold medal in F40 short-put at the IPC Athletics Grand Prix in Qatar or her Coach, Analto Patrick; and the team secretary, Olabisi Aziz, although their names were included in the brochure.