Twitter Users Go Crazy As Ice Prince Defends Girlfriend Maima In The Mist Of Cheating Allegations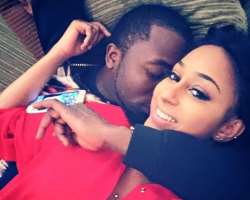 BEVERLY HILLS, January 20, (THEWILL) – OK! You probably have heard all the cheating rumours flying all over the place involving Ice Prince Zamani and his girlfriend, Maima   Nkewa .
In case you haven't, let's brush you up a bit. Maima was accused of cheating with an Abuja-based married man by a follower on Instagram after she shared a photo of her and Ice Prince all loved up.
Following that, pictures began to surface of Maima and the man named, Akin in same locations at the same time . See some of that below!
Ice Prince has however refused to let anything come between him and his girl. The singer wemt on a tweeting spree since Sunday defending his girlfriend, this was later followed by cryptic messages which led some people to believe that he might have accepted that the rumours were indeed true and broken up with Maima . But the rapper just bounced back to his ladylove's defence saying, the poor girl is not to be blamed in all theses. Awwn !
What he tweeted below!