An Armed Robber is Better Than the Nigerian Police…Fans Table Complain to Korede Bello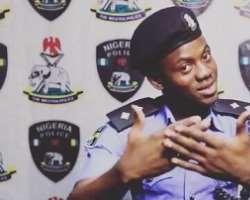 Despite the fact that the Nigerian Police is trying to rebrand itself under the tutelage of the Inspector General of Police, Solomon Arase, some Nigerians still do not find confidence in the force.
Late 2015, Mavin records singer, Korede Bello, was made the first ever youth ambassador of the Police force in a bid to attract Nigerians to believe that the Police is a friend and thee singer whose campaign for the Force has gone viral.
Yesterday, the 18-year old 'Godwin' crooner shared a snippet of a new campaign by the Police force tagged 'Everyone is a police' and looked almost unrecognizable in a police uniform with his signature curls covered under a beret.
But fans did not seem to like the idea that police is their friend as they came expressing their displeasure about the Force.
ron_culture: Shaking my head, trust Nigeria police ? Are you in drugs?
naobenson: Which of d police are you talking of because the ones in my area collect 50 naira from Okada drivers and ignore what they are suppose to do. Abeg leave trash for lawma. Story for the Gods.
emmyson01: Laughs, the Nigerian police is one of the biggest problems in Nigeria
desire_nafthali: The Nigerian police? I will rather love an Arm robber because he will be sincere to tell me he came to rob me
spugo2002: Is police your friend?
marilyn_merc: they keep killing the innocent civilians, and begging for money. Police shouldn't be holding arms during the day, because all they use it for is Kill innocent people and protect themselves korede Bello like you care self.
sammietify: Nigeria police will still arrest you for no just reason, korede Bello let me advice you be careful of the type of friend you keep because police are not you friend
patrick_parry: Police: hope they improve in their ways ,they should learn so many things ,what drives me crazy about them is when they carry big guns around showing everyone that their police and can't even perform when something comes up, they should stop carry big guns about ,they should go with small guns and hide it ,most people in Nigeria are not afraid of guns anymore that's because we see it everyday. That's the only thing that should make them afraid because our police are not fit ,big tummy ,lack of intelligence, poor mentality ,the Nigeria police needs more facilities that will help them tackle crime ,don't know if they even keep adequate records ,they don't know their job ,please some of them should go training outside and see how police operates . We need a better Nigeria,since is change we all need. Korede Bello